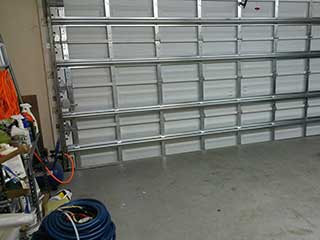 In order to make sure your automatic garage door system can keep working optimally for a long time, you need to have it serviced by professionals on a regular basis. This will do more than increase the lifespan of the mechanism; it will also prevent all sorts of issues and accidents, and save you money on the costly repairs a lot of malfunctions can require.
Spring Adjustment and Lubrication
A lot of parts need to be checked and tweaked in order for the system to keep operating at peak efficiency, but none more important than the springs. These components will gradually wear out until they break, which is why checking their condition periodically is so important. Our team will also test their tension and adjust it accordingly to reduce some of the strain these units suffer from. Finally, we'll lubricate their coils to promote a more efficient and silent performance.
The Open Sesame Routine
In order to make sure your garage door is safe for you and your family to use, our technicians will examine the automatic motor unit (a.k.a the opener) and its main safety features. The alignment of the safety sensors needs to be precise in order to ensure that they can properly detect obstacles. If they're out of position, or look like they're about to be, we'll adjust them and make sure that they're facing each other correctly. We'll also test the auto-reverse mechanism which forces the door to reverse when it encounters physical resistance. As you can probably tell, this feature is incredibly important, which is why regularly testing it is so crucial.
Minor Repairs – Major Results
We'll also examine the tracks and fix any bent sections we find in order to allow the rollers to move smoothly inside them. In addition to that, we'll also check the lift cables for fraying and the hinges for rust. Any part that we find to be in need of replacement will be quickly removed in favor of a new component.
Our Experts – Your Safety
Give our team at Garage Door Repair Palmetto Bay a call today and join many other local homeowners who benefit from our regular service appointments. With proper maintenance, your door will last longer and you'll spend less money on it.
Let our team take care of it for you!
Maintenance Garage Door Torsion Spring
Door Opener Troubleshooting Services
Broken Garage Door Spring Replacement
Commercial Garage Door Replacement